Double Fine Action News Special:
Day of the Devs: Summer Game Fest Edition - WATCH IT LIVE TODAY!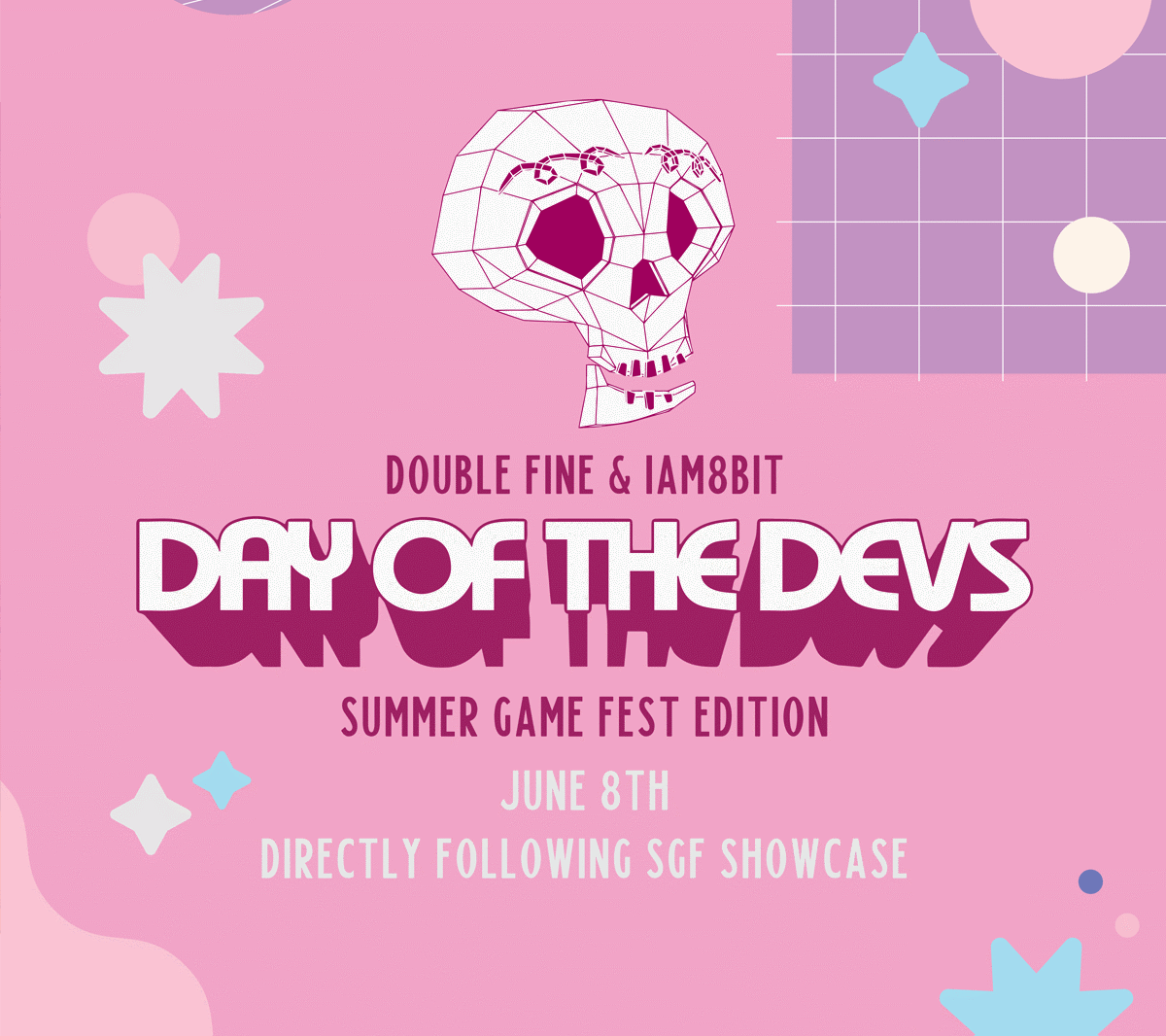 Day of the Devs: Summer Game Fest Edition - WATCH IT LIVE TOMORROW!
We're back! The world's coolest and most fun indie game showcase returns TODAY. Once again iam8bit and Double Fine are super proud to partner with Summer Game Fest to bring you the 2023 Day of the Devs: SGF Edition Showcase!
This showcase is a passion project for us where we get to shine a light on the brightest and most unique upcoming indie games! This year we have a ton of amazing titles, including a BUNCH of surprises and world premieres.
It all begins with Geoff Keighley when Summer Game Fest Live kicks off June 8 at 12pm PT, with Day of the Devs immediately following. Tune-in LIVE via major streaming platforms, including YouTube, Twitch, Twitter, TikTok, Steam, and others.
Here's what to expect:
A BRAND NEW look at Hyper Light Breaker, the follow up to Heart Machine's beloved Hyper Light Drifter.
The WORLD PREMIERE of the next game from Mutazione developers Die Gute Fabrik.
New gameplay from Studio Sai's upcoming dating + action game Eternights.
A SNEAK PEEK at a new game from Land & Sea, the developers of Alto's Adventure and Alto's Odyssey.
A FIRST LOOK at the next game from iam8bit Presents!!!
PLUS announcements and updates from: AdHoc Studio, Evil Licorice, Geometric Interactive, Impossible, Lululu Entertainment, Moonloop Games, Phantom Coast, Sad Owl Studios, Shape Shop, and Wishes Unlimited.
A brand new Game from a Double Fine Presents Alumni.
And much more!
We promise not to send too many emails, but if you wish to withdraw your consent and stop hearing from us, simply click the unsubscribe link found at the bottom of each email we send, or contact us at support@doublefine.com.
We value and respect your personal data and privacy. For more information, please read the Microsoft Privacy Statement. By submitting this form, you agree that we may process your information in accordance with these terms. Thanks!