Costume Quest comes to PC!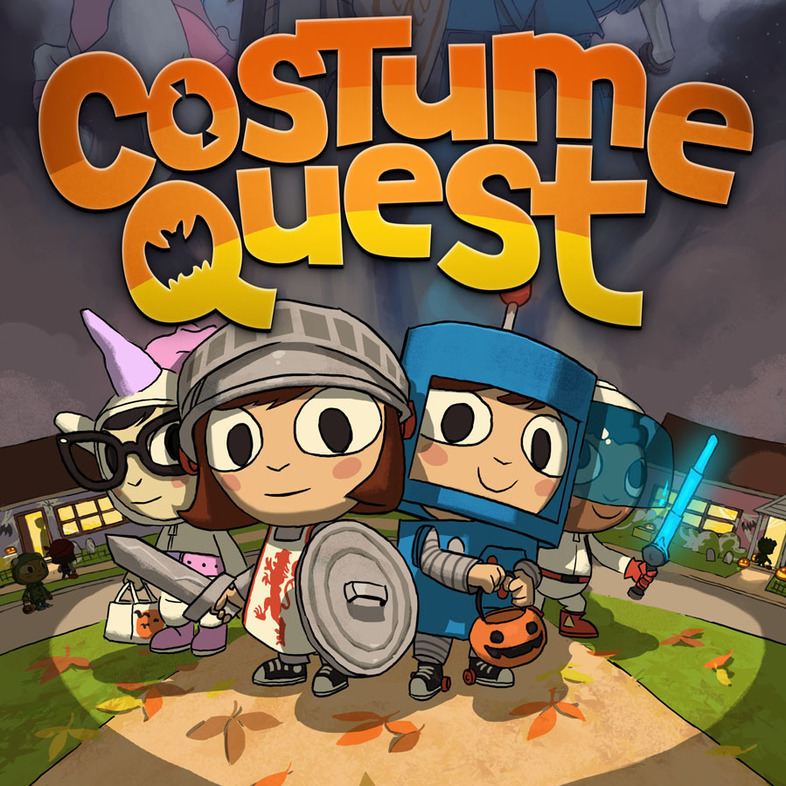 Hi, PC gamers! How you doin?
Click "Read the Rest" to see the press release…
SAN FRANCISCO, CA – October 14—Double Fine Productions is happy to announce its first PC title in over six years. The epic Halloween adventure Costume Quest is available right now on Steam! The game is available for $14.99 and includes the celebrated add-on adventure Grubbins on Ice.
"I'm still mad!" cried that one guy who always posts on our forums, "I mean, what took them so long?"
"We have always said that if it were up to us, we'd release our games for the PC," Schafer stated in a calm but inspiring tone. "Well, now… it's finally up to us!" he said, holding his sword in the air while everybody cheered.
"Thanks to Dracogen Strategic Investments," said a quiet, falsetto voice that no one could figure out where it was coming from. "Steve Dengler is so likeable and handsome, eh?" said the voice again, but this time we were starting to have suspicions about who said it, even if his lips weren't moving much.
Costume Quest is a Role-Playing Game set on Halloween night. You play as Trick or Treaters on an urgent mission. Monsters have invaded your town, kidnapped your twin, and worst of all, they are stealing all the candy! The player builds a party, collects candy, takes on side quests, and crafts new costumes along the way. These special costumes transform them into giant fantasy warriors so they may fight a variety of monsters in exciting turn-based combat to save Halloween. It's effing awesome.
Grubbins on Ice follows the further adventures of our young heroes as they plunge through a mystical portal into the dimension of Repugia, the very home of monster kind! New quests, new locations, new costumes, and a couple of sweet yeti jokes abound. So does a giant eyeball.
"Well, I'm a tiny bit less mad," said the guy from the forums, "But they'd better keep making PC versions."
"We're working on it, eh?" said a tiny voice.