About Double Fine Productions
Double Fine Productions is an award-winning game development studio founded in 2000 by games industry veteran Tim Schafer. Located in San Francisco's South of Market district, Double Fine is committed to making high-quality games with an emphasis on originality, story, characters, and fun.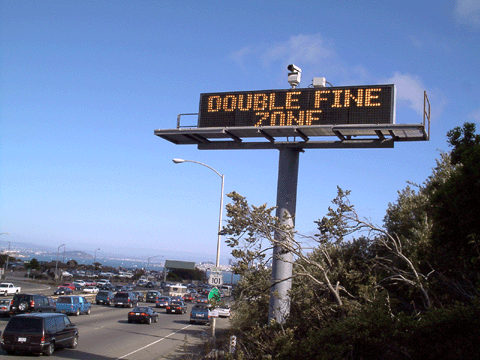 The history of Double Fine is full of excitement, battles against demonic hordes, game jams, giant robots, and at least one madcap dentist stealing brains. Or maybe that's some of our games. If you want to know about the studio, we'll need to break it down into lovely little chunks of biographical truth and the occasional exaggeration.
How did it all start? Well Tim Schafer and a band of motley folks, including other LucasArts alums and assorted cool chums, decided that it was time to start their own game studio — One where original projects could thrive and the only limits were measured in imagination and megabytes. A studio was set up in San Francisco, named after a traffic sign, and shoved into an old clog-shop.
The early days of Double Fine birthed some of our largest games. Psychonauts was first on the docket and it proved to be an arduous development period. As skilled programmers, artists, and other game buds worked their butts off to bring the story of Razputin "Raz" Aquato, a series of publisher woes left the game's fate up in the air. That's some inside baseball nonsense though; it was sorted out in the end either by fate or luck. Psychonauts got made. Perhaps it took a bit of time to truly resonate, but it's endured as cult-classic with an energetic and diverse fandom over 15 years later.
From platforming and brains, Double Fine moved into fire and flames! Brütal Legend was inspired by Tim's love of heavy metal and some time spent working in a record store. The real world is full of surprising influences. In this case, the question was what would happen if you set a game in the demon-filled lands found on old-school albums? The story of Eddie Riggs took a seemingly normal roadie and tossed him into a world of strategy battles and decapitation. Celebrities like Jack Black, Motörhead's Lemmy Kilmister, Tim Curry, and Ozzy Osbourne lent their voices to a cast of rockers and devils. It was a chance to experiment, mixing some hacking and slashing with real time strategy. Tim still boots up the game every Rocktober 13th to play with fans and pass along the sacred achievement: Six Degrees of Schafer.
Working on big titles can be pretty tough. Looking for ways to encourage creativity from the Double Fine team and give folks a breather from hellspawn and heavy metal, we started the tradition of "Amnesia Fortnight," a two-week long period resembling a game jam where anyone can pitch a game and the studio works on the most popular submissions.
Many of these prototypes have become games in their own right, from the RPG Costume Quest to the puzzling adventure game Hack 'n Slash. Iron Brigade started as 'Custodians of the Clock" and Sesame Street: Once Upon a Monster was built from a project called 'Happy Song." While there were also games like The Cave, which was headed up by tim's former LucasArts colleague and Monkey Island creator Ron GIlbert, there was a stretch of time where most games started out as Amnesia Fortnight projects.
Double Fine's output was defined by these experiments, leading to smaller releases that covered a variety of genres. And those ideas sprung right from the minds of Double Fine team members.
The hard part in all of this was getting funding for games, and getting them published. It's fun to experiment but making original games made also means pitching and boardroom meetings and focus-testing and convincing people your strange idea is going to make money. In 2012 that all changed for us.
Hot off the heels of creating a documentary about Minecraft, 2 Player Productions approached Tim with the idea of kickstarting a documentary about the next Double Fine Production. Worried about interference from a publisher's marketing team, Tim suggested also crowdfunding the game itself and self publishing, and the Double Fine Adventure was born.
What set out as a request to fund a small $100k flash game quickly grew out of hand as 85,000 backers contributed $3.3 million, setting world records for crowdfunding, and resulting in both the game and the documentary growing significantly in scope. That game would eventually become Broken Age, a tale of two young teens caught in amazing circumstances, and as promised the entire process was captured, both the exciting highs and rocky hurdles, in a documentary series that you can watch for free.
While crowd-funding hasn't completely changed the business model for games, plenty of great developers and indie designers have also used it to make the games that they knew their fans were craving. We would turn to it again for both the Brad Muir multi-generational combat strategy project Massive Chalice, and later Psychonauts 2. Additionally, 2 Player Productions has remained on-site ever since, and never stops filming us, even when things get weird. Maybe even especially then.
The Double Fine Adventure also spawned Day of the Devs, an event that has now been held every November since its inception in 2013. Starting out life as a way to show Broken Age to backers, the event has grown steadily with help from our pals iam8bit, into a huge free-to-attend party which has shown off hundreds of games from small, independent, creative teams, to crowds in their thousands. We've also created a smaller GDC spin-off held at the Alamo Drafthouse each March.
With a brief dive into the realms of Virtual Reality for Psychonauts in the Rhombus of Ruin, the next big adventure for us was once again turning to our fans to help us fund Psychonauts 2, taking new strides as the first game to also offer fans a share of the profits, through new game specific crowd-funding site Fig.co.
While the team slowly ramped into full production on our big sequel, we also turned to more traditional funding methods to remaster Tim's classic LucasArts adventure games - Day of the Tentacle, Full Throttle and Grim Fandango. Meanwhile, Stacking's Project Lead Lee Petty headed up two new projects; The Psychedelic 1970s Sci-Fi inspired "Metroidvania" Headlander, and the neon 1980's influenced, Post-post-apocalyptic rogue-like Rad.
We even started up a publishing wing called Double Fine Presents, with the aim of assisting small teams of creative folks. While that has largely concluded now, it was our genuine honor to help bring games like GNOG, Everything, Gang Beasts, and Knights and Bikes into the world.
In June 2020, we celebrated Double Fine's 20th anniversary. We'd created more than 20 games, published 10 others, and prototyped countless more. We've founded events, and filled the world with as much fun and color as we could, all the while doing our best to act as ambassadors for the independent game development scene. It had a super great time, but on reflection we realised how lucky we'd been, and there was an aspect about it that had been weighing heavily upon us. It was time to make a big change!
After two decades of going it alone as an independent studio, Double Fine started talking with Microsoft about the future. Yeah, that's right, the computer people. Turns out making games is weird, tricky and expensive, and eventually it's like "wow, it would be great to keep doing this, but also feel a bit more secure, wouldn't it?."
They agreed to let us hang around with them in return for some sweet, sweet games, and so Double Fine is now part of the Xbox Games Studios. That means that we're basically best friends with Master Chief and those cool folks who made Fallout New Vegas.
It's a new chapter, one where we are thinking less about how to secure funding, and instead we can focus on making games, in a supportive environment that will allow us more creative freedom than we've ever had before. Whatever comes next, we promise that it will be full of the fun and exciting things that you've come to expect from the gang at Double Fine Productions. Here's to the next 20 years!
Two Headed Baby
Our mascot, our pal, the controller of our destiny - our two headed baby pal "2HB" has been with us from the start and wears many guises! Behold his two-headedness!