Double Fine Presents… Ooblets!
We're proud to announce that OOBLETS will be published by Double Fine Productions, and will be playable at the Day of the Devs GDC arcade in San Francisco next week!
Ooblets is a farming and creature collecting game made by Glumberland, a two person development team consisting of Rebecca Cordingley and Benjamin Wasser.
I'll let them take over from here…
---
Most of you probably haven't heard of us or our game yet, so I thought I'd tell you a bit about who we are and what Ooblets is.
My name is Rebecca and I'm the lead (and only) programmer on Ooblets. I'm also the lead artist. I don't sleep much. I've got the rest of the team here, so I'll let them introduce themselves one by one:
"Hi, I'm Ben."
That's everyone. Ben is our Chief Napping Officer and Game Designer.
Our studio, Glumberland, is just a fancy name for the two of us goobers in pajamas making Ooblets out of our little apartment.
So what is Ooblets?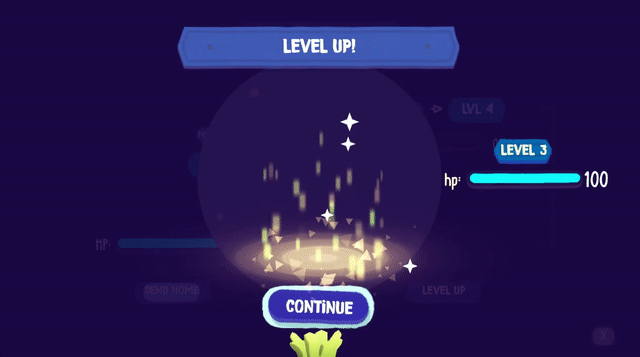 Ooblets is a farming and creature collecting game. It's been likened to Pokémon smushed into Harvest Moon and stirred up with some Animal Crossing.
In Ooblets, you'll manage a farm, explore a bunch of weird places, find wild ooblets (that's the name of the creatures), battle other ooblet trainers, collect all sortsa stuff, and even manage a little shop!
Battles are turn-based with a lot of team mechanics. Are you going to stack your team with quick attack ooblets or balance things out with healer and defense type ooblets? Who knows!
The farming gameplay is full of juicy upgrades, automation, and zany crops like fleeps, greeps, and zuchinoids. Zany!
Explore the regions of Oob and travel across different biomes finding new ooblets, trainers, seeds, and maybe even some hats.
When can I play it?
We're aiming for a 2018 release. I know that's a while from now, but we'll make sure the wait is worth it. Until then, we'd love it if you followed along with our progress on all your favorite social networks like Twitter, Tumblr, Facebook, Twitch, Trunch, Tibdibz, and Boopwire.
You should also maybe definitely sign up at Ooblets.com so we can spam you when something big happens like the game is released.
---
Thanks guys! If you're in San Francisco next week for GDC then you'll find Ooblets in our Day of the Devs zone, we'll be sure to bring the whole gang along to a show relatively near you as soon as we're able to! For now though please join us in welcoming Ooblets to the Double Fine Presents Family. Yay Ooblets!