Psychonauts 2 will be published by Starbreeze Studios
We're very happy to announce that Psychonauts 2 will be published by Starbreeze Studios! These guys are developers now turned publishers. You've probably played one of their games, like the PAYDAY-series that they are maybe most famous for, and also one of our favorite games in recent years, Brothers: A Tale of Two Sons.
We're really excited to be working with a publisher that has such a strong background in development, it makes them a perfect partner in our eyes—We're confident this will be a great marriage, and that our game babies will be the most handsomest of all time.
If you cast your mind's eye back to our Fig campaign, you may recall some rather attractively made brain shaped charts showing how we were putting together the funding for Psychonauts 2. There would be a portion from our generous backers and Fig investors, a portion from Double Fine, and a portion from an undisclosed publishing partner. This is what that chart looks like now: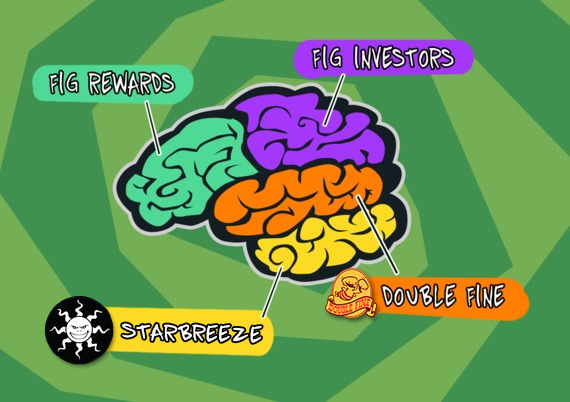 If you'd like to read more about the specifics of the deal, you can do so here. You can also read more about it in our latest Psychonauts 2 project update, over on Fig.