Where was I? Oh yeah, being stabbed in LA.
So it turns out there is a small possibility that there was no stabbing at our hotel last week. In my defense, let me tell you what I saw: There were SEVERAL uniformed police officers all over the hotel, and also a LARGE HANDFUL of plain-clothes detectives, and A LADY with rubber gloves. Plus, there was yellow, "Police Line Do Not Cross" tape everywhere. What were we supposed to think, except for, "Stabbing?" And hey, we weren't the ones who started the rumor. I actually don't remember who said the word "stabbing" first, but once we heard it, we knew that it was right. It just felt true. Even though it kinda wasn't.
Here's the real scary thing: The room where everything was going down was the very room in which we, ourselves, should have been sleeping! We changed rooms at the last minute, and we thought we were doing it because of the cracks in the bathtub, but now I realize we were having a psychic premonition! A premonition that would have SAVED OUR LIVES if there had actually been a stabbing.
Speaking of make-believe murder and blood, I went to an Alice Cooper concert this weekend. When he played, "Welcome to My Nightmare," I flashed back to my memories of his appearance on the Muppet Show when I was a kid. He played that song on the show and they made special, evil, nightmare Muppets to play with him, and one of the Muppets had a metallic triangle for a head and I thought it was super freaky and scary.



This guy could fade in and fade out at will, which makes him even freakier. And only now have I realized that Triangle Head from Silent Hill is just a rip off of Alice Cooper's evil Muppet guitarist!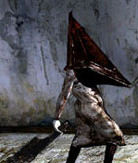 The Muppet Show did everything first!
And they did it with felt.