DOUBLE FINE COMPANY STORE EXPLODES!
...with NEWNESS.
We have not one, not two, not three, not four--oh, wait. Actually four was right-- We have FOUR new items in the company store today! Put your mom's jewelry up on eBay because you're going to need some fast spending money for these!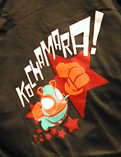 KOCHAMARA
T-SHIRTS!
OMFG!

LILI
T-SHIRTS!
HOLY COW I JUST SWALLOWED MY TONGUE IN SHOCK!

MR. POKEYLOPE
BABY "ONESIES!"
Ahhh! There is not enough money in the world to pay for how many of these I want. Even though I have no children of my own I want to get one for my cat, one for each of my arms, and one to keep my face warm on the bus! And one to just stuff in my pants so that I know I have one in my pants.
THE FOURTH
THING!!
Is kind of like the second thing, but in blue and with girlie sleeves!
[We don't have pictures of the fourth thing because Daniel has something against the fourth thing. So we'll have to show you the fourth thing later.]
Well, now, how about that? So far, 2006 is looking like one ass-kicking kind of a year.
Why are you still here? Why aren't you over at the DOUBLE FINE COMPANY STORE??!
All monies received go to fund our next game. Or at least, to buy sodas for the people who will make our next game.