The Art of Middle Manager of Justice
Hi, my name is Mark Hamer, and I'm the art director for Middle Manager of Justice! Since the game has been announced and discussed a bit online, I thought I'd post something about the art style of the game and how it developed. It's been a lot of fun working on MMoJ and I'm really excited for everyone to play it when it's released. (Soon!)
A little bit about myself—I'm an artist with a background in traditional animation and almost 20 years of experience in the games industry. I've worked on lots of different platforms and games, including a 2D isometric game for LucasArts called Herc's Adventures: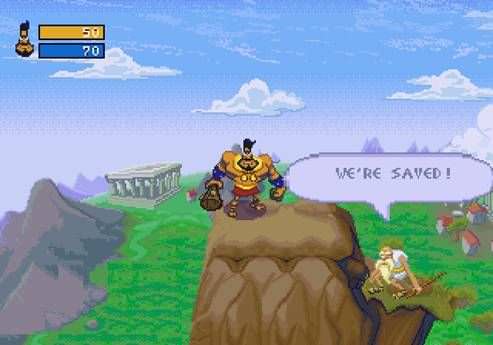 I went on to work with Tim Schafer on Grim Fandango and have worked with him ever since! Here's one of the scenes I animated for Grim:
Now on to MMoJ! But first, a disclaimer: Some of this art is very early and rough work that doesn't reflect the final game. I share it here just to show how things developed.
MMoJ started as an Amnesia Fortnight prototype which was completed in 2 weeks to get funding for the final project. I wasn't involved in the prototype, but here's a glimpse at how the game looked at that point: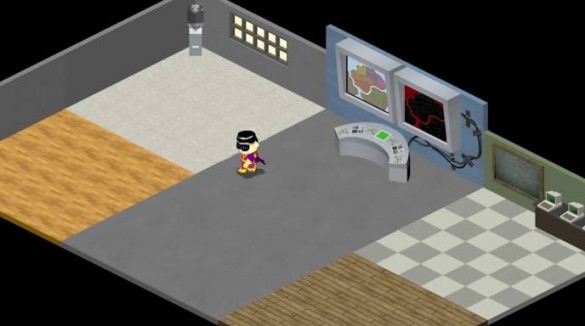 When we decided to go ahead and make a full iOS game, our team was assembled and I came on as AD. With a small team (averaging about four people) and a short production cycle, we decided to keep things simple and go 2D with a heavily stylized look to keep things interesting. The first thing to do was to come up with a new visual style and redesign the game around it. Hopefully this look would be different from all the other free-to-play games out there.
The prototype had more of a standard superhero base feel to it and was rather stiff. I felt there wasn't enough of an office vibe and I really wanted to create a quirky, inviting office with a personality and warmth of its own. In other words, I wanted the environment to be a character itself. I tried to develop this world, adding lots of detail and humor everywhere I could. One challenge in doing this was the isometric top-down view—how to inject personality in such a rigid format? I did this mainly through props and detail in the world, using wonky perspective and humor to break up the seriousness and rigidity of the isometric view: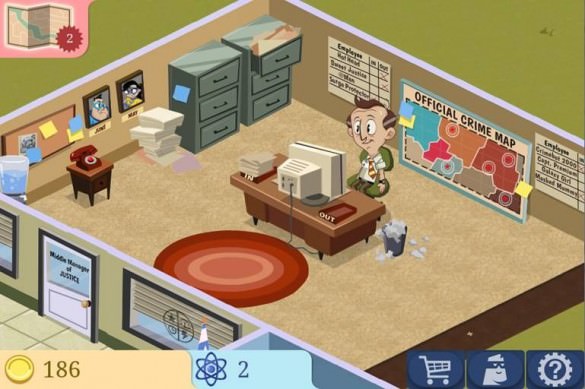 (By the way, I've been working at Double Fine for more than ten years and have worked on almost every game made here, so you'll find lots of references to our other games and artists sprinkled throughout the world just for fun.)
Developing the characters was a similar challenge—how do we treat the serious and highly defined world of superheroes? How do we make it ours? We decided to build our heroes as characters with fully developed personalities and quirks. Like in other DF projects, the writing comes first and we used it to develop the characters and bring them to life. So once we started to come up with characters that interested us, how do we draw them visually? What is the art style for these guys? They have to fit in this weird, wonky world, and they have to be be appealing and warm, not just caricatures. Their look went through some dev phases until we came up with a style that felt right and also worked well in the isometric perspective.
Here are some early character roughs, exploring different looks, body types and styles: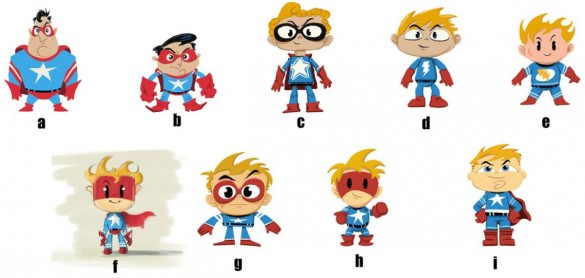 Everyone liked the direction of "A" from that sheet so I developed him more, making him less "doofy" and more heroic (and deciding to stay away from any Superman comparisons) his look was refined to his final state:


One of the biggest challenges was designing the Middle Manager himself. How do you make an appealing and heroic character out of someone usually portrayed as a shlubby, wimpy, or obnoxious character? Again we talked out his personality and developed him as a character first, until we ended up with our initial MM design:


His expression was refined and his grey hair was eventually replaced with dark hair that had more contrast in-game, and was more dynamic/heroic but still read true as a middle manager. Here's his final look: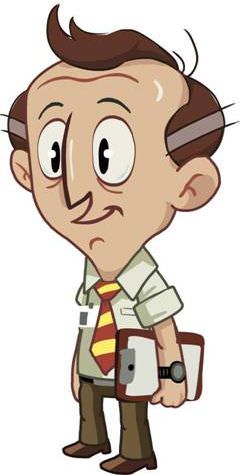 Besides the office and the heroes, I also needed to create our supervillains and the environments where fights would take place. For the fight environments I wanted to break out of the isometric confines and be a little freer, while still fitting in the same world. I kept it cartoony but tried to maintain the humor, level of detail and inviting feeling: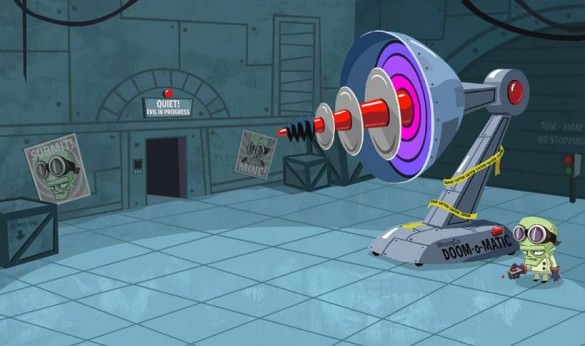 Here are some villain concepts and secondary character designs:


And some damage done to the unsuspecting town by our heinous super villains!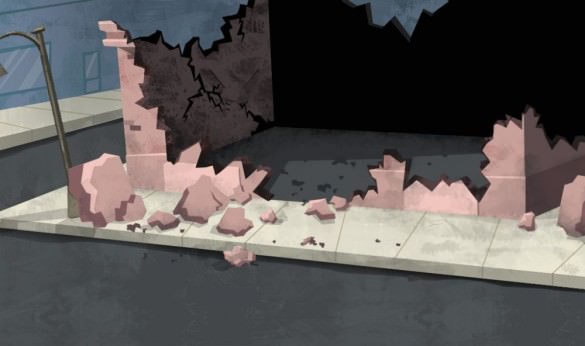 Thanks for reading! There's plenty more stuff to see in the final game. I hope you enjoy playing the game as much as we did making it. Any questions or comments are welcome! 😄