Come and see us at PAX next weekend!
We're heading to PAX West in Seattle next weekend, come and find us at booth 106, in the usual spot right behind PlayStation.
PLAY GAMES!
At our booth you shall find SE7EN games to play: five Double Fine Presents games—Gnog, Everything, Gang Beasts, 140 and a new one we'll be announcing on the first day of the show—plus two of our own, Headlander and Psychonauts in the Rhombus of Ruin!
ENJOY FINE MERCHANDISE!
As always our booth-side store will have many delights on offer, including some excellent new items making their debut at the show.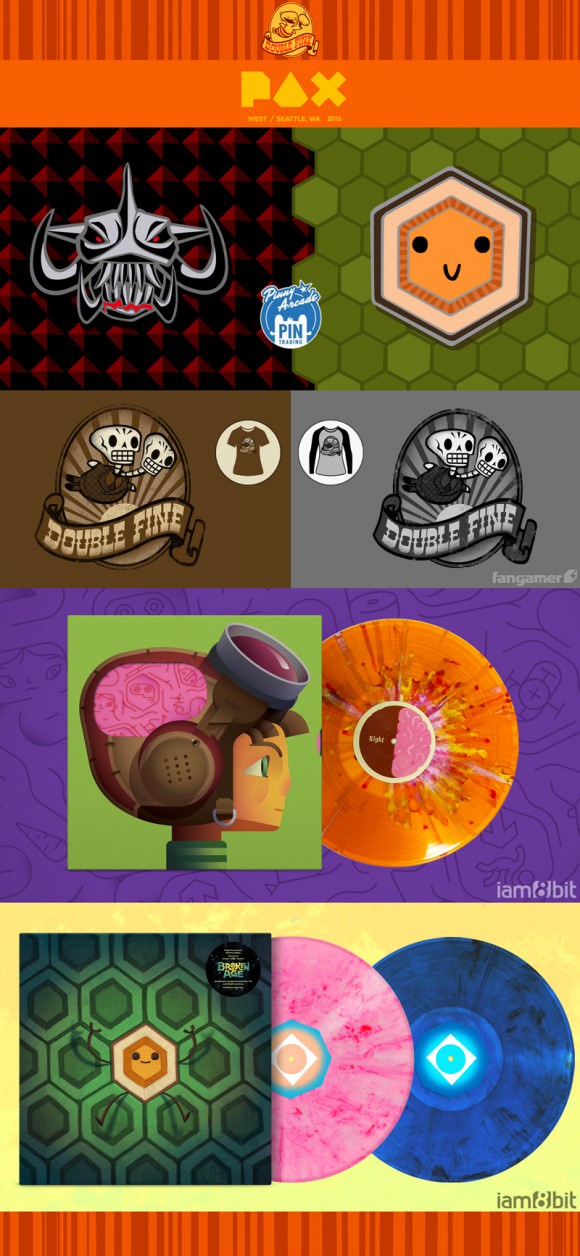 New Pinny Arcade Pins
Amongst those things are two new official Pinny Arcade pins offering you the chance to express two very different emotions. For those feeling BRUTAL we suggest displaying the shiny chrome effigy of the Eternal Fire Beast Ormagöden upon your body. But for those in a happier mood, the welcoming face of a Hexipal is sure to win you affection of many kinds.
We'll also have a few remaining pins from last year around, but we don't have many left!
New Two Headed Baby Tees
New 2HB tees available in an array of sizes, grey and black version in long sleeves, sepia version in short sleeves!
Vinyl Soundtracks
We've been working with our friends at Iam8bit to produce vinyl edition soundtracks for both Broken Age and Psychonauts. These will be available for all after PAX, but special editions of each will be available first at PAX, limited to 500 of each! See over here for more info.
GET YOUR THINGS SIGNED BY TIM
Mr Tim Schafer will be around at the booth from time to time, please say hello if you spot him! We'll also have daily signing sessions on Fri, Sat and Sun afternoons, so bring anything you want signed, or pick up something new at the booth!
COME TO OUR PARTY!
On Sunday Sept 4th we'll be hosting our annual PAX meetup at Hardrock Seattle on Pike St. We'll have games to play, friendly faces to talk to, and live music from Gang Beasts composer Doseone, and Headlander composer David Earl! Come along, bring your friends, the party is open to all, no PAX Badge required!