Double Fine at PAX: Panel, booth, activities, more!
Double Fine is going to PAX.
Wait, that's not quite right. Let me try again:
Double Fine is all over PAX.
It's our first year attending the show as an exhibitor, so come say hi! Check out this bountiful list of Double Fine-related excellence going on throughout the show:
We're Booth #3010 on Level 4. Be there!
The Cave and the Happy Action Theater sequel will be playable at our booth! Come get your hands all over them.
The Cave will also be playable at the Sega booth. If you play it there, you'll get one of The Cave figurines shown below!
Tim and Ron will be signing autographs at the booth at various points throughout the weekend. Check at the booth for specific times.
We'll have new merchandise available for the first time at the booth, including some items that will only be sold at PAX!
PAX 2-Headed Baby shirts featuring the new image at the top of this post

PAX Exclusive

Double Fine Adventure lumberjack art print
The Cave art print

PAX Exclusive

The Cave character figurines shown below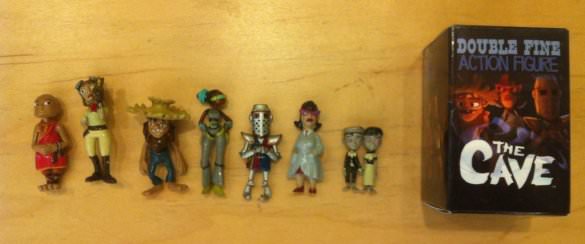 We're holding a fan meet-up! Join us at the Hard Rock Cafe on Sunday from 5pm to 9pm, and wear your backer shirt if you have one! Tim and other Double Fine team members will be there, and the Happy Action Theater sequel will be playable.
The Hard Rock Cafe is at 116 Pike Street, about a 15 minute walk from the convention center.
Sign up for the meetup on Facebook! This isn't necessary for admittance, but it helps us get a sense of how many folks will show up.
Double Fine folks are on lots of panels! Check these out:
Be sure to come by and play The Cave and the Happy Action Theater sequel! This is the first time either game has been unleashed upon the public. (The Happy Action Theater sequel was, however, unleashed upon Giant Bomb last week. You should watch that.) See you there!