4th Annual Day of the Devs is coming to San Francisco on November 5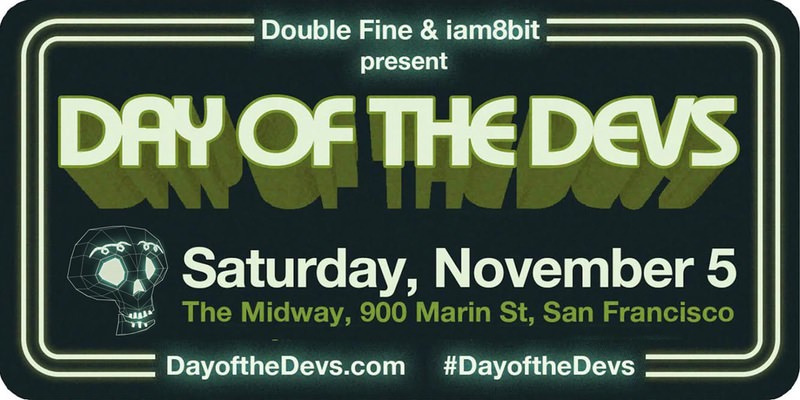 Double Fine Productions and iam8bit are teaming up for the fourth annual Day of the Devs, a festival that brings together the gaming community to celebrate the indie games that inspire and delight fans of all ages. This year the free festival features several games that will be playable for the first time, including Knights and Bikes, Moblets, and Yooka Laylee, among other new and unreleased indie titles, as well as food trucks, art exhibits and live music sets by SCNTFC, Darren Korb, Jim Guthrie and Baiyon. Day of the Devs will take place on Saturday, November 5 from 3 p.m. to 10 p.m. at The Midway (900 Marin Street) in San Francisco's Dogpatch District.
"We had so many great games last year," said Double Fine President and CEO Tim Schafer, "We just assumed that people's appetite would be satisfied forever. But they want to see more games! At least, according to Twitter, Facebook, and… what's that yellow ghost thing called? That swaps faces?" Tim then slipped into a tirade about the ubiquity of social media choices that went on for fifteen minutes and included a condemnation of current LEGO models that come practically pre-built, before coming back to the topic, "In my day, you had to use your IMAGINATION. But anyway, we're fixing all that with Day of the Devs. It's bigger and better than ever!"
The growing list of featured games at Day of the Devs includes:
Aerobat
Ape Out
Arena Gods
Astroneer
Celeste
Dead Hungry
DOBOTONE
Drive!Drive!Drive!
Everything
Flinthook
Future Unfolding
Gang Beasts
Gnog
Gorogoa
Hidden Folks
Hollow Knight
Jettomero
Knights and Bikes
Little Nightmares
Long Gone Days
Loot Rascals
Lost Ember
Luna
Moblets
Mortuary Simulator
Multibowl
Nidhogg 2
Old Man's Journey
Overland
Pikuniku
Psychonauts in the Rhombus of Ruin
Pyre
Rainworld
Return of the Obra Dinn
Rock Band VR
Sausage Sports Club
Secret Legend
Snake Pass
Spy Party
Starr Mazer
Statik
Tacoma
The Church in the Darkness
The Wild Eternal
Tokyo 42
Tumbleseed
Vignettes
Where the Water Tastes Like Wine
Yooka Laylee
Day of the Devs is a free festival, open to all ages. For more information, updates on line-up and sponsor information, please visit www.dayofthedevs.com. RSVP on EventBrite.