Double Fine Action News Issue 4:
PSI-Blast Of The Devs!
It's been a fair shake since we've last hit you with some delicious Double Fine news but that's because we've been busy making all sorts of stuff.
First off: yeah, that Psychonauts 2 documentary is on the way and it'll blow your socks off when it arrives. In the meantime, we spent the celebration period around P2's one year anniversary to dive into some behind the scenes goods. In this edition of Action News! you're find some of our favorite glitches and easter eggs as well as discussions between writers, designers, and composers about the creative process behind some fabulous characters and musical wonders.
The list below will wow you with an array of tid-bits and trivia that should whet your appetite. Point is this: you want to learn more about P2? This is the news letter for you...

But that's not all! We're finally moving back into physical, in-person events. We're doin this carefully and our first big public bash is the return of Day of the Devs live!
Day of the Devs Back In-Person!
For ten years now, Day of the Devs has been showing off amazing games (indie and sometimes larger) from diverse teams around the globe. This year, we're gathering in San Fransisco on November 5th on 3PM – 8PM PT at The Midway. It's free admission and will have tons of games to enjoy.
However, if you want some extra time on the floor and a chance to really meet up with some of the devs, there's also a Humble Bundle containing tons of our games (Psychonauts, Brütal Legend, Broken Age) as well as former Double Fine Presents titles like Gang Beasts.

Importantly, there's a big old voucher for some iam8bit merch and, oh yeah! A VIP ticket to the event that lets you skip the crowd and slide in early. The bundle itself is $10 and each purchase contributes towards keeping the show free for people to show their games, and free for people who want to play them! (it also supports some great charities!)
The time of year we team up with iam8bit to showcase some of the best games from creators around the globe. There will be live music, delicious food, amazing developers, and tons…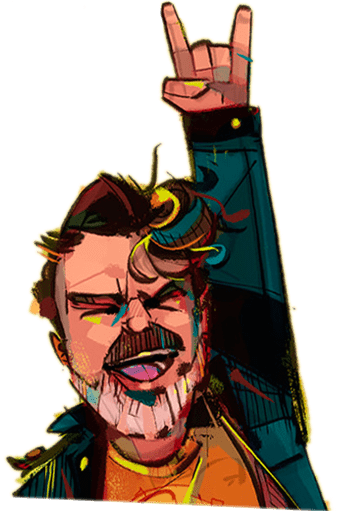 Tim recommends!
Hi, and welcome to the first ever installment of "Tim Recommends!" Apparently, this is a feature of the newsletter that I approved months ago during a weak moment before I realized that it might require THOUGHT and EFFORT on my part. Therefore I have a bonus recommendation for you today to get us started. I recommend you read all messages carefully before you reply with a thumbs up emoji. Anyway, I was so young and foolish then, and I had plenty of opinions for the things that I think I'm supposed to recommend here: video games, books, board games, and ways to hide a body. But instead, for this maiden voyage of Tim Recommends, I'd like to do some real good in the world. I'd like to recommend something that will really improve your quality of life, save you money, and help you spend more time doing something you love. I recommend: Keeping your dental floss in the shower. You know you want to hang out in there longer anyway, and flossing gives you a great excuse not to get out of the warm, comforting water. It also promotes gum health. You're welcome!
Psychonauts 2 Anniversary Megaload
We promised you tid-bits and knick-knacks and we weren't kidding. Celebrate one year of Psychonauts 2 with us, dive into some fun making-of articles, discussions, and art galleries below!
It's a cliche to say that "time flies" but phrases become cliche for a reason. Not so long ago but still "half a decade ago," Psychonauts 2 moves from a flittering idea in Tim's…
---
Making music and mixing sound is a tricky task that requires tons of technical knowledge alongside creative impulses. Ford's Follicles, one of the three fractured parts of Ford…
---
Consulting and feedback from all sources helps create a game that not only addresses mental health with more awareness but ensures the gameplay metaphors we use are unique!…
---
The psychedelic rock of Volume Two gives way to battle and boss music, Grulovian anthems, and revelations of years past. If that sounds like sweet mental magic to your ears, head…
---
The making-of / concept work of our engineering team is often hard to share and convey, but through this collection of Programmer Art, most of it from Psychonauts 2, we think…
---
But look: some merchandise and widgets are actually pretty fockin' cool and there's a fresh batch of Psychonauts goodies from Fangamer that are pretty great.
---
Even for someone like Tim, who has written plenty of games, there's a process of testing and feedback that shaves initial ideas down to their core. The important details are in…
---
Below is an example of Scratch VO being used in a cut scene, featuring Environment Artist, Geoff Soulis as Coach, Art Director, Lisette Titre-Montgomery as Milla, Character Artist…
---
Let's get this out of the way: it's a bonkers achievement that any game gets made. People found glitches and bugs but they also could (in 99.999999% of cases) play the game and…
---
The way to Green Needle Gulch and the Aquato Family camp twists and winds through Bucky Fierro's Questionable Area. Bucky Fierro and the Questionable Area(?) tourist crew are…
---
I'm Ashley Esqueda , the author of The Art of Psychonauts 2. I'm working really, really hard on the book right now, but wanted to come up for air on the game's one-year launch…
LTD Run Releases
OK one last thing
Full Throttle Remastered now has a fully fantastic package courtesy of Limited Run as well as a comprehensive Collector's Edition. You can snag copies for PlayStation 4, Xbox, and…
---
Physical Copy of Day of the Tentacle Remastered for PC Day of the Tentacle Remastered Original Soundtrack Purple Tentacle USB- with game included 18" x 24" Reversible Day of the…